B
Botulinum Toxin - More commonly referred to as Botox is a protein and neurotoxin that paralyses the muscles.
D
Dermal Fillers - Dermal fillers are injections used to fill out wrinkles and creases in the skin. They can also be used to increase the volume and definition of the lips and cheeks.
F
Fitzpatrick Skin Type
A classification system that denotes 6 different skin types (I-VI) based on skin colour and skin reaction to sun exposure.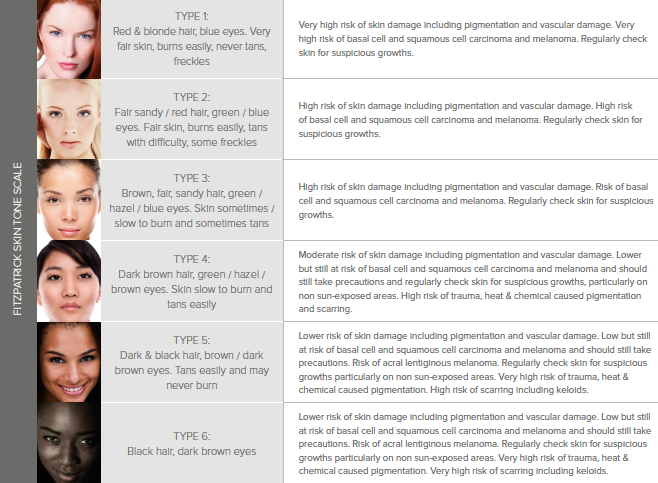 H
Hyaluronic Acid - Natural humectant (also known as Sodium Hyaluronate) attracts 1000 times its own weight in water.
J
Juvederm - Juvéderm® is made by Allergan, a global health care company that pioneered the development of medical aesthetic treatments over three decades. The Juvéderm® facial fillers are made using advanced technology, they have a good safety profile and give you highly natural-looking and long lasting results. There have been more than 26 million treatments worldwide with Juvederm® facial fillers.
Juvéderm® facial fillers use a unique crosslinking technology, called VYCROSS, that allows for longer lasting results and a better lift. When a facial filler is injected, it's essential that it integrates with your tissue. Juvéderm® facial fillers are known for their exceptionally smooth consistency and their ability to integrate with your own facial tissue to get that natural look.
Each Juvéderm® facial filler serves its unique purpose, whether it's to smooth away wrinkles, restore volume for a gentle lifting effect or to reshape and redefine the lips. Your practitioner will likely use several products from the Juvéderm® range to create a tailored treatment plan for you.
When injected, Juvéderm® facial fillers have minimal swelling, allowing the results to be seen immediately. In addition, most Juvéderm®facial fillers include lidocaine, an anaesthetic, that minimises pain during injection.
R
Rosacea - A form of skin inflammation characterised by dilation of blood vessels and appearance of acne like lesions.