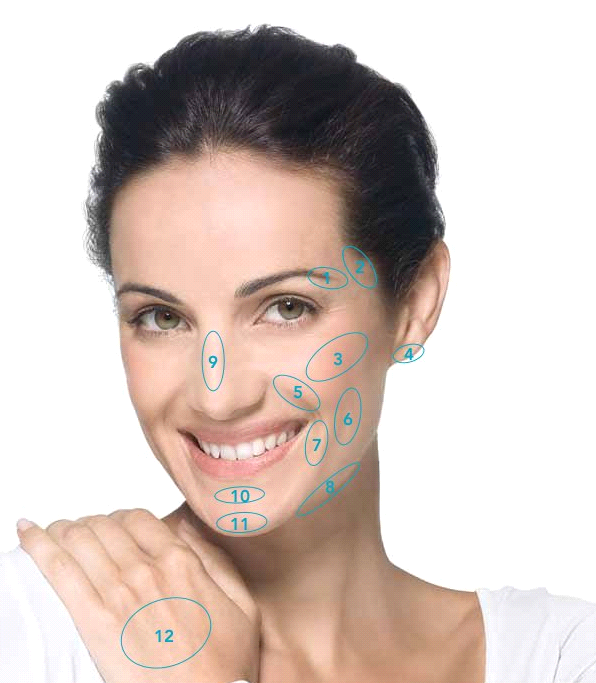 Radiesse – effective in many areas
1 Eyebrow
Radiesse Volumising dermal filler can lift your eyebrows to make your eyes appear open and fresh.
2 Temple
Hollow temples can be filled out to give your face a fuller appearance.
3 Cheekbone
Volume in the cheekbone strengthens the 'V' shape of the face and shapes a youthful appearance.
4 Earlobe
Volumising dermal filler can help restore the fullness and smoothness of the earlobes.
5 Nasolabial folds
The folds between the nose and corner of the mouth, also known as the 'laugh lines', are often the most noticeable lines. They can be filled out easily, giving you a fresher and younger look immediately.
6 Cheek / hollow cheek
With the V Effect, lost volume in sunken cheeks can be replaced effectively.
7 Marionette lines
These are the lines that go from the corners of the mouth down to the jaw. With the marionette lines filled in you will gain a cheerful expression.
8 Lower jawline
Defined contours on the lower jaw help to maintain the youthful 'V'.
9 Bridge of the nose
Nasal imperfections can be reshaped and smoothed out with volumising dermal filler without resorting to surgery.
10 Chin fold
A sunken chin fold can be filled in defining the base of the 'V'.
11 Chin
Volumising dermal filler helps to achieve a natural expression, defining the jaw line.
12 Back of the hand
Veins and bones are more clearly visible with age. Retain a youthful appearance by plumping the back of the hands.
Radiesse Prices
from £175